Search found 8 matches
Search found 8 matches • Page 1 of 1
by dakotagun

Mon Aug 11, 2014 9:49 pm
Forum: Hunting
Replies: 44
Views: 21995
Never hunted SD, but live and hunt in central ND. Still public land available that produces birds, but it's dwindling. Have a GWP and Brittany; have always owned pointers. Most upland guys I know or hunt with have pointing dogs. My hunts are nothing like the SD cornfield shoot-fest I hear about - we...
by dakotagun

Thu Aug 07, 2014 4:34 am
Forum: General Chat
Topic: Headed to Minot, ND
Replies: 2
Views: 1087
Grew up and work in Minot. Live about an hour south, so don't do those things with my dogs in that area, but have some ideas... There's a dog park in the city, SW corner, for running him in town, and a spot on the river just west of that, just off of the west bypass, that has a small coffer dam and ...
by dakotagun

Sat Jul 05, 2014 9:11 am
Forum: General Chat
Topic: Storing the training stuff
Replies: 7
Views: 2389
Hope to see some ideas, too. Recently saw in a friends garage how they did it - like a series of smaller cubbies made of wood and hung on a wall; looked like those plastic parts storage bins stacked one on another, only larger to accommodate dummies, collars, etc.
by dakotagun

Fri Jul 04, 2014 6:44 am
Forum: Training
Topic: Check cord recommendations?
Replies: 17
Views: 5051
Greetings. I've used check cords on my dogs for years, but only recently heard of folks preferring 'stiff' ones to help avoid tangles and offer a more immediate response with the dog. Mine are regular, multipurpose ropes. Any recommendation for a stiffer style, I the 20-30' range? I've shopped lots ...
by dakotagun

Mon Jun 30, 2014 9:42 pm
Topic: A little about you...
Replies: 1099
Views: 497723
Randy here in central ND. Hunt upland birds mostly, occasionally waterfowl; enjoy late season over opening day(s). Current gundogs include a 7yr GWP, Nikita, and a 3.5 mo old Brittany pup. Have owned two other Brits in the past, but the GWP is quite a hunter, too. Enjoy training the dogs as much as ...
by dakotagun

Wed Jun 11, 2014 7:40 am
Forum: General Chat
Topic: Post dogs on Point!!!!
Replies: 738
Views: 425410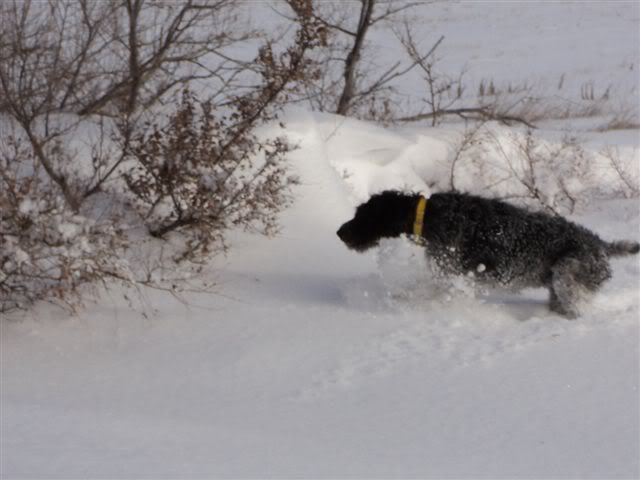 6 yoa Nikita, GWP, on a wild and wiley December rooster.
Same girl, different rooster last January.
Search found 8 matches • Page 1 of 1