This topic may hit some nerves, but after seeing these photos I think you'll understand where I'm coming from. My number 1 hobby in life is my bird dogs, number 2 hobby and matched equal in passion is raising club lambs. I do as much research into which rams to breed to which ewes as many of the dog breeders on this forum, and have had very good success. I have been looking forward to our spring lambing this year because we held back some super ewe lambs from a succesful lamb crop and bred them to a proven ram. Thursday morning I got the call from my mother that there had been a wreck. The neighbors dogs has gotten into the sheep.
Being a sheep producer this is a common battle that we must fight. Year after year irresponisble "city" people move closer and closer to the country to get away from the hub bub of life, with no regard to who they effect. These few irresponsible people believe living in the country on 2 acres automatically gives their dog free run of the county. Majority of the new neighbors refuse to put up fences because "their dogs never leave the yard," and "wouldn't harm a fly." We repair fence, bury holes, nothing seems to slow them down. Our current neighbors for the most part have been friendly but lately have followed the common theme and refuse to keep their dogs under control.
Growing up the first animals I killed were neighbors dogs killing sheep, before I was 15 I had killed over a dozen dogs. Needless to say this strains relations, but only for the ones to iggnorant to keep their dogs where they belong.
The current situation came to light this last summer when the neighbors picked up a husky/mutt to play with their 2 current labs, 1 chocolate, 1 yellow. Together these labs would sneek over and snoop but it was just a matter of time before the new pup became a bad influence. Many times my mother called pleading to lock their dogs up, breaking down to tears after repeated attempts were always unanswered. We tried every avenue to avoid shooting the dogs, until finally Wendsday night happened.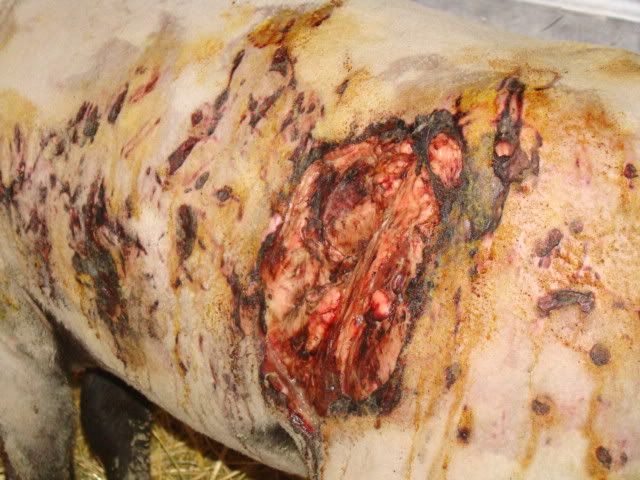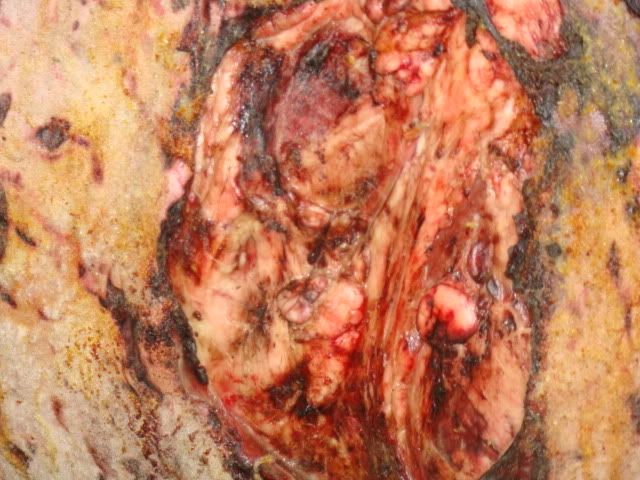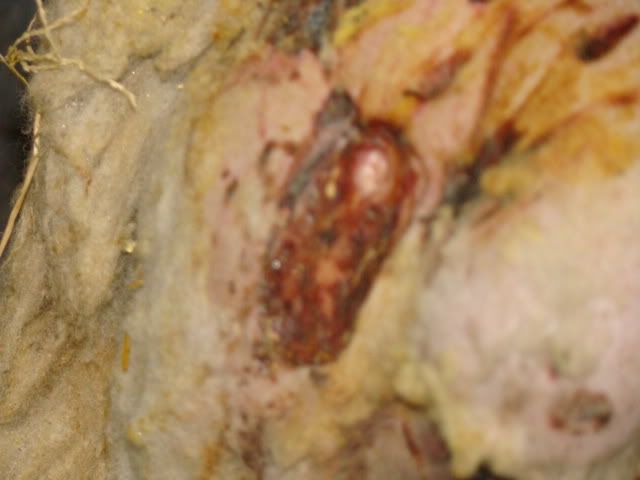 The dead ewe was my best ewe, out of proven lines and a specimen to behold
Of the 2 that got hit hard and lived, 1 might make it. I expect the one to succumb, although we are working around the clock to keep it disinfected and healing properly. I imagine both these ewes will abort if they do live. 2 Other ewes just had wool pulled and made it out with nothing then a little stress, my might abort as well.
The cops were notified as were the neighbors. Although they are pleading innocent we had a wintess driving down the road that morning and chasing them off, positively identifying the husky/mutt and 2 labs. But because she didn't actually see it killing the one, there is nothing we can do about it.
If your interested in what I'm going to do about it.............................Lets just say my father and I have been doing shifts in the nearby barn. The lab was caught last night on my game camera crossing our property, and the husky was seen walking the fence. I think it's safe to say that my Tuesday morning the threat will be gone. But to late, the damage has been done, my spring crop is walking the thin red line of disaster. The biggest issue is next year we will have to do it all over again, as yet another irresponsible dog owner lets their dog roam free.