Two days ago I bought a brittany pup from some very strong French work breeding. This was a repeat mating,some of the pups from the previous mating are beginning to do well in trials here and on the continent.
This pup (a ten weeks old bitch) is very bold in new surroundings and is very bold around people but since she was an "only" pup she has had no socialisation with other puppies and does not understand their play signals etc. She is fine with adult dogs but will snap at a pup that tries to play with her.
So far I have tried her with a cocker pup that is one week older than her. She bullied that pup and I removed it. Then I tried with a lab pup that is 3 weeks older than her and considerably larger. She fails to recognise this very friendly pups play signals and will attack her if the lab pup bounces up towards her.
Any ideas ? I've never had an "only" pup before.
Other than that she is very promising, she will go 100 yards from me out on an open grassy field but recalls very easily. She seems to like retrieving too and will do 30-40 feet retrieves out in the courtyard with my gloves or with a small bird.
This is her out in the courtyard and retrieving my rolled up gloves.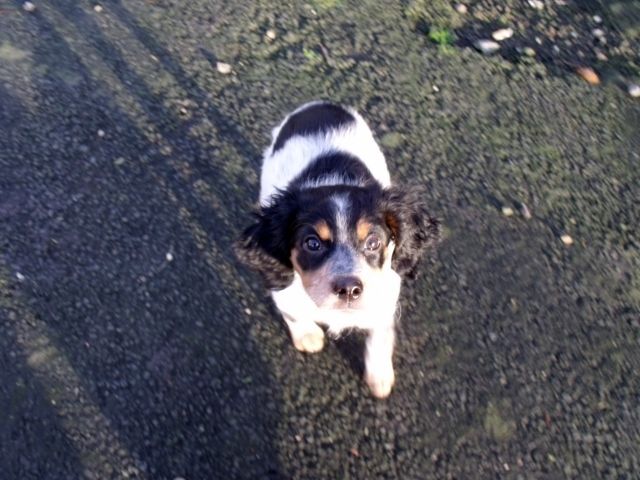 Bill T.