The short of it, is that Snip's Bring It On Brandi earned a few new titles this year. Brandi finished her AKC conformation CH in May. We took the NAVHDA UPT test at the end of August, where she earned a Prize 2 and a score of 175 out of 184 points possible. We then scrambled to get ready for an October UT test, where she earned a Prize 2 and a score of 177 out of 204 points possible. Some photos are below if you want to skip the wordy narrative. Is there a prize for longest post ever?

The journey there was not quite that brief. Brandi is the first dog I've ever shown in conformation. When I mentioned to some that I was going to try this, I got the "Good Luck. Field dogs don't win." form of encouragement. I had no expectations, and a rather rowdy pup on my hands when I started in early April of 2010. We showed 5 weekends that year. At the 2nd show weekend, Brandi got Winners Bitch both days, and our first two single points. The third weekend would bring us another point. And while the fourth weekend brought no points, we received Reserve Winners Bitch on our first chance at a 3 point major. Needless to say I was getting hooked, and the final show of the year would seal the deal. It was a 4 day show, with 3 point majors available each day. Day one and two brought us Reserve Winners Bitch each day, so we were knocking at the door. Day three was our turn. Not only did we get WB and our first major, but we went Best of Winners over the males present. On day four, one of the bitch exhibitors was absent, and the regular class major broken. Unfortunately 2 ringside exhibitors opted not to show either, even though the 2 specials (already CHs), could bring it back up to a major. So when Brandi took Winner's Bitch, Best of Winners over the males, & Best Opposite Sex over the two CH females, it was only worth 2 points. This was a weekend that I was very proud of, to have 4 different judges, place her so well.
Year 2011 was more of a struggle. Despite the point schedule for Iowa being lowered, entries were way down, and majors were hard to find. During the year, I did pick up a few more WB single points, and even got my first Best of Breed. It was a tiny show, but still cool to make my way to the Sporting Group ring. The final show of the year was upon us in September, and we needed one single point plus one major to finish. On Friday, there were only 2 females, and we got 2nd. Saturday wasn't worth my entry fee, as they had us showing outdoors in a thunderstorm. So I was trotting a nervous dog under the 5' of tent overhang, splashing in puddles, with lightning flashing in the distance. Brandi still managed to get Reserve Winners Bitch, and then the judge had the bright idea of moving the remaining GSP judging indoors. Even though it wasn't worth a major, I was thoroughly bummed as my chances of finishing her in 2011, slipped away with each day. At that point, a young gal walked up to me and said how pretty Brandi was. That gal happens to be the daughter of a well known professional handler, Diane Engelking. I asked the young lady, if she thought Brandi would do better with a handler, knowing full well the answer. At that point, I was frustrated with my handling skills, and quite simply tired of showing. Brandi was noticeably bored also and not showing herself as well as she use to. For a dog that's use to hunting or training, it didn't take her long to realize this wasn't nearly as fun. So even though Sunday wasn't a major, I decided to have Diane show Brandi, so they could practice being a team for Monday's available major. Before I handed Diane the leash, I went through the things I do to try to get Brandi to behave and show herself well. What a joke! The moment Diane had the leash, my beautiful rip snorting dog was back. They would get Winner's Bitch that day, for a two point win. When the next morning rolled around, an exhibitor that had been there all 3 days prior, was no where to be found. The major was broken and we went home with another 2 point win. Frustration yet again, and fittingly at the same show as the year prior.
In 2012, I decided I was committed to using handlers. Diane wasn't available for the first show of the year, and the gal I hired ringside was evidently as green as grass, from what I saw of her handling skills. Another show weekend with Diane, brought us RWB on a 4 pt major. Next, I took the plunge again at a show that was 30 minutes from home. I showed Brandi one day and picked up another WB and single point. Our next show, that wrapped the championship up, was in Wisconsin. It was 3 days in early May. I showed up about 30 minutes early on Friday, knowing that Diane would meet me ringside. Panic set in when she was no where to be found 10 minutes prior to ring time. I ran back to my Jeep and changed into a sweater and some slacks I'd brought, and ran back to the ring. I had nicer clothes with me, but no time to change. It didn't matter, as we got Reserve in Open Bitch, and went no further. I breathed a sigh of relief, as I saw Diane show up later in the day. She'd gotten a flat on her motorhome on the way up, and I am the one person on the planet without a cell phone. As I handed her the leash on Saturday, and went to hide among grooming tables, I had no expectations...but high hopes of Brandi getting that final major. Placements can be confusing sometimes, as different judges have different ways of going about things. As I stood out of Brandi's sight view, I swore she was in the first position, but couldn't see the ribbons handed out. When breed was finished and Diane came out of the ring, I said, "Did you do what I think you just did?" A big sweet smile spread over her face, and she said, "Here's your Champion", as she handed me the leash. I'm pretty sure I had a tear or two in the corner of my eye, as I thanked her for bringing out the best in Brandi, and we would share a few hugs that day. I have mixed emotions, about not finishing Brandi myself. But with earning 12 of the 15 points on my own, including a major, and showing sparingly with few opportunities at majors—I think I made the right decision.
Brandi shown by Ms. Engelking, at her final show.
The journey in field training was far more fun and more work in some ways. My husband and I had worked together on our first dog Roxi. We knew we had made mistakes and never got her fully broke. Brandi was to be my project, and I knew I had a fine bird dog, that I didn't want to repeat those mistakes with. At the same time, I still didn't have a lot of training knowledge or experience in reading a gundog. I probably still don't, as a matter of fact. Fortunately Brandi's breeder Brenda, was always available to field questions from me. I think Brandi's training probably took twice as long as necessary. I would see a certain behavior, but without any experience, didn't know how to progress. So I'd email Brenda with a description or a video, and say where do I go from here? Every time Brenda gave me advice, it was spot on, and I often had the feeling of—why didn't I think of that?
This Spring, I threw my money at 3 different test entries. Two were in August, when I was hoping to be at a minimum of UPT ready. The Utility Preparatory Test is somewhat similar to AKC's SH in field work, adding in a duck search, marked water retrieve, heeling, and a drag. The 3rd entry was for the beginning of October, when I felt I might be UT ready. The UT is a broke dog test, refiguring in all the elements of the UPT.
Spring, the busiest time for our business, was spent doing a lot of yard work in the evenings. I practiced retrieves and yard steadiness alot. As we got into May and June, I got Brandi into the field a lot more. With my husband working two jobs and going to school full time, I was on my own most of the time. I grew to appreciate the times he was available or when I could train with NAVHDA friends. In July I got the news that my first test, to be held in NE Iowa, was being moved to MN due to a lack of water. That was the theme for the summer, and I had a hard time finding any good water to practice duck searches or marks on. I decided to opt out of that test, as a 2.5 hour drive was going to turn into a 6 hour drive. It just didn't seem worth it for a UPT test, when I had entered more than one. That gave me two additional weeks until the next test at the end of August. Being slower than your average dog trainer, we didn't start shooting training birds over Brandi until the end of July. We started giving her a few shot bird retrieves, and that was undoing her steadiness, so she would go retrieveless until the UPT test...other than the yard retrieves that we did often.
I got another call 3 weeks before my August 26th test day. Their water was dry as well, the test secretary said. They had found new water at a state park, but it was flooded timber, and unlike what most of us practice for with a marsh environment. He told me he strongly advised we go and practice it. So we made the 2 hour journey out two times, to do just that. For the most part, Brandi was doing wonderful, and was prepared for all aspects of a UPT.
I got some grief for opting to do the UPT, but I knew that while we could maybe pass a UT, it wouldn't be a pretty show. To prove it, her birdwork the day before the test, rattled my nerves. That combined with waking up to rain on test day, zapped my confidence. Brandi ran second, and it was lightly raining as I cut her loose in the field. It wasn't more than a minute in, when she went on point. She was downhill some 15 yards, but I could see a chukar walking on a mowed path above her. The judges understandably wouldn't let me work it, because it was too close to the parking area. Ugh! They told me to heel her away and release her. I was worried she would bee-line up the hill and bust the bird, but much to my surprise, she didn't. Our 2nd point would come just a couple minutes later. I really had to work for that one. As I got near Brandi, she started to take a step and was a little flaggy, very unlike her. I gave her a whoa and started looking for the bird. I got maybe 15' out and didn't see anything. I told the judges that this was not a staunch point for her, and they told me to try relocating her. Gasp! I tapped her and hoped she wouldn't rip a bird out. She moved forward about 20' and locked up again. Again I got to the front, but didn't feel her point was what I was use to. As I started flushing and again came up empty handed, Brandi gave off a bark. I said, "Seriously B, I'm trying." The judges asked me to relocate her again. Oh man! This can't end well. I tapped her again, and about 20' later she locked up beautifully. As I moved to flush, one of the gunner's spotted the bird about 20' ahead of Brandi, and we were able to finish the sequence with shot and retrieve. I was able to breathe again, as we now had a complete piece of birdwork. There were 2 things a judge would say to me after that, that rang true. Number one was to kick around, that I was using my eyes too much to look for the bird. Number two was that my dog can have a long nose and I needed to expand my flushing efforts farther. I know now also, that I probably shouldn't have whoa'd her on that loose point, but let her self-locate or even called her on with that step she took. She had 3 more finds after that. I don't remember much about the 3rd and 4th point. At the 5th point, she was not as staunch either, and I came up empty handed with a brief flushing attempt. The judges suggested I relocate, based on what they had seen before. Brandi went into field search mode and the bird wild flushed about 20 yards from where she had locked up. In the end, I wasn't sure how we'd score in the field. I'd thrown out some commands, but other than a few steps, her steadiness had been good.
Next would be the drag, in what was now pouring rain. I sent her and she disappeared over the hill into the saplings. Just about the time worry set in, I could see her heading back towards me with the duck. She wanted to flare a little wide as she neared me, but delivered to hand, with a "Brandi Come" command.
Thankfully the sun came out in the afternoon, and we moved on to my nemesis...heeling. When it came to field environments, Brandi heeled like a bull, always trying to charge forward. About a month prior, I'd gotten some help on using the e-collar for heel training. It was working, but NAVHDA is pretty particular about the heel. If slack comes out of the leash, the penalty starts. As my left foot left the ground, I bellowed "HEEL!" The judges would jokingly say later, "Say it like you mean it." Her heeling was quite good, but we lost some slack at the end, and I fumbled with her as I worked my way down the muddy bank. She stood nicely for the duck throw, shot, and send. Due to the water situation, the duck was placed in a diagonal corner of a lake. Naturally Brandi cheated, ran the bank, swam to the duck, and came out the same way she went in. There was around 25-30 yards of muddy shore she was running back on. She was out and out galloping, with the duck swinging, and her feet sucking in the mud, sounding like a herd of cattle coming. I giggled over her enthusiasm and grabbed the duck as she approached.
At this point, I felt like I could relax just a little. Brandi's always been pretty good at duck searches, so I didn't expect this could go too wrong. My only worry was if there was enough to keep her busy for 10 minutes in flooded timber. She was nice and steady to the shot and sent well. She started out wonderfully, tooling across the water and hitting some areas of brush. She got to the opposite bank, which was some distance away. She worked the bank, head held high scenting. And then it hit, and she found something to keep her busy. Of all days to discover frogs—this was it. So then she was sidetracked with frogs, managed to get some more search in, and then back to frogs. I figured I was already taking a hit, so I gave a command. She looked at me, from the opposite bank, with confusion. My time was up and the judges had me call her in. As if to rub salt in a wound, she decided to duck search some more on her way in. I walked back to the car with my friend Mary, beside myself with frustration, wondering if I hadn't practiced one too many times there.
As usual, I was probably harder on myself and my outlook of the test, than anyone else was. As the judges read the scores, I was pleasantly surprised with a UPT Prize 2 and score of 175 out of 184. I can't say I didn't want a Prize 1, but unfortunately frogging was what separated us from 4 additional points and that goal. Otherwise, I had received a 3 out of 4 in heeling and a 3 out of 4 in obedience, and both still qualify for a Prize 1. The other 10 scores were rated 4 out of 4, and the frustration on one event, turned into overall pride.
UPT test water.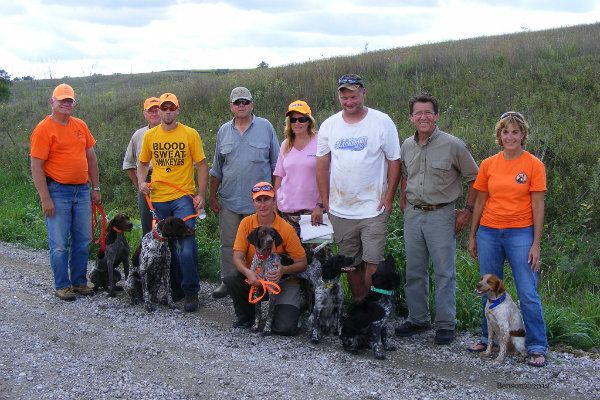 My end of the day UPT photo, which was super sweet, as my friend and training partner Randy got two UT prizes on his FBs Ellie & Bailey and his wife on the far right got a NA prize with Gracie.
Now I had one month to tidy up what was acceptable in UPT, to what would be acceptable in UT. I told myself prior to the UPT test, that if I passed with a nice score, my goal for the year had been met. Like any bug though, that nice score translated into wanting more. Now the pressure was on again. Her drags were looking good, so I didn't want to overwork that. Earlier in the year, she'd wanted to drop the duck at my feet, but I hadn't had that problem recently. So I only did a couple more drags in preparation for the test. Her duck searches were good, and the frogs would thankfully be hibernating soon. We continued heeling drills. She was also wanting to sometimes shake and drop on her marked retrieves, after she got out of the water, so I worked every weekend on that. At the UPT, she'd shown a lot of field steadiness, and I was having no problem after the shot. We had one month to work on her field retrieves. While Brandi loves to retrieve and has no problem with bumpers or dead bird retrieving yard drills, the field was posing a problem. She would go to get the freshly shot bird, fetch it up, and then drop it 15' later—spitting out a ring of loose feathers in her mouth. While I had hunted her a lot in the previous seasons, it was mostly with a camera, so she had accumulated very few freshly shot retrieve experiences. One more command of "Brandi Come", and she'd deliver it to hand, but that's unacceptable for a good test score. I thought that as we got a couple weeks into it, experience would prevail, but she still wanted to spit. The last couple weeks were focused on trying to fix that. We were still a little hit and miss by test day, but I knew she was at least capable of good retrieves.
Our October 5th test day came, and we started in the field. Brandi had 5 different points with 4 finds in less than 15 minutes. Argh! She was a touch like our previous UPT test, just a little bit unglued, and I ended up throwing a couple whoas out to control her enthusiasm. One particular time was tough. The bird field was mowed short, with multiple small tree ring areas. Brandi locked up on the edge of a tree ring, and I had to make a decision. The grass ring was maybe 5' deep by 15' wide with a 15' tall bushy tree to her front right. I had three choices coming from her rear right. Walk around the tree to the front and hope I don't flush the bird into her face. Walk around her to the left, hoping not to flush the bird across her, and that she would remain steady while I spent the extra time to get there. With the cover variation, it wasn't like she didn't know exactly where the bird was. Along with her nose telling her where it was, her eyes could rule out where it wasn't. And the final, and wrong choice that I chose, was to walk in alongside her on the right. As I got up to her, she started to take a couple steps like she was going to catwalk in with me. I could tell she was determined, so I gave her a strong whoa and bumped her with my left knee. Yes, that's how close I was. She stopped and I started flushing. I don't know how flushing could take so long on a little patch of cover, but it was a wet chukar hiding out under some very wet laid over grass. I had to lift it with my boot, and pretty much launched it 15', where it hit the ground. At that point, a gunner that was very close to it, threw it up and shot it. Thankfully the other birds were much better. Our training hole in field retrieves was to show it's ugly head that day. All 3 birds that were shot, were retrieved to hand. But all 3 required an extra command to be delivered to hand.
Our heeling was similar to the UPT. I boomed a command and she complied. At the mark, after my first two shots, I worked my way down the bank to the blind. Brandi got antsy and did a few steps in place and let out a few barks. I knew I instantly got dinged with barking. The duck was launched and her steadiness was spot on. She was sent, grabbed the duck and headed back to shore. Unfortunately at the shore, she shook and dropped the duck. She picked it back up on her own, no command given, and delivered to hand...but again I knew we would take a hit.
Now off to the duck search. My chapter had been hit hard by the drought as well, so our plan B was to drive 30 minutes, to a lake with some flooded timber. I had worked Brandi there two times before, and she'd done nicely. Today was no exception and she did a wonderful duck search, hitting different shorelines and swimming through cover and such. It was a performance to be proud of. The problem was the entry off of the rock fishing jutty. On her initial send with the shot, she whined and walked the edge. I was told to send her again, no shot. She continued to whine and got half way in the water, standing on a huge rock. Her desire was obvious, but she wouldn't commit. Here goes everything, third send and she leaped like she was rocket powered…all or nothing style. Ironically, 3 out of the 4 UT dogs that day required 3 sends each. I'd like to blame it on the unusual entry point, being a rocky dropoff into chilly October water, but I should have seen this coming. On our 2nd training outing at this location, that we did a week or two before the test, she hemhawed like that. I should have ran back to my car and gotten some bumpers to practice her water entry on that training day, but was short on time and didn't. I almost never practice duck searches with a shot, and was positive she would go after the shot on test day. I was wrong.
We would end with the drag. Another great job, only to drop it 10' from me. Command given and duck delivered to hand.
Again when they read the scores, I had no idea what to expect, this being my first UT dog. Brandi ended with a UT Prize 2 and score of 177 out of 204. Even though I knew we weren't quite ready for UT, and there were no Prize 1's given that day, I was severely bummed about our performance and resulting score. I was not disappointed in Brandi at all. The blame lies with her amateur trainer, in not being able to recognize issues like the duck search entry…..or fix them fast enough, like the manner of retrieve. Those two items are what cost us a Prize 1, along with the higher score, that I fully know this dog is capable of.
The following day, a friends dog would fail his UT at the drag, the final task of his testing day. When he came back to the barn at the end of the day, my husband and another friend said solemnly, "Sorry." Standing behind those two, I walked up and said "Sorry" as well, knowing how much passing would have meant to him—another first time handler. It was with that, that I gave myself a swift kick, reminding myself that this test was just one day in my dog's life, our errors were fixable, we did score a respectable Prize 2, and we could test again.
I am also reminded of the reward of my summer journey, in having a dog that became reliable on her birds. In the last month before our UT, a couple of my training partners encouraged me to bring my gun afield with their dogs. To me that was a huge leap of faith, considering I'd never before shot any gamebirds in training or hunting. I didn't hit a home run with my shooting skills, but I did manage to hit a couple birds during that month. I can still remember the chukar that both guys missed, and I took a chance on. It was way out there, but I took a shot. Truly amazed I said, "Did I do that?", when it tumbled out of the sky. My friend Mary and I also shot clays a couple times during that same period. It all built my confidence, and I could tell I was getting better. Three days before Brandi's UT test, I took aim at and shot down my first training bird over my dogs steady point. As I stood alone with Brandi in the field, I'm sure I wore a huge smile, and it felt like a moment come full circle. Working as a quiet confident team, and downing my first bird over my dog, may have been the biggest prize I worked for all summer.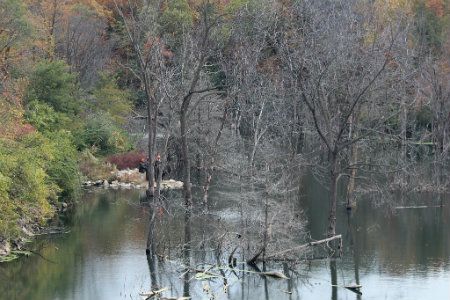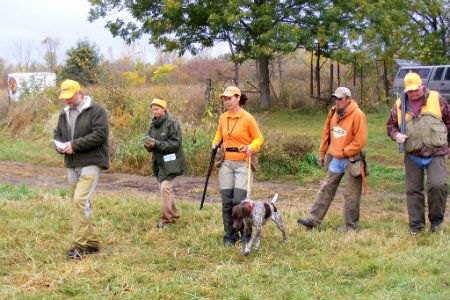 UT test water. I love the 2nd photo a friend a friend snapped as we entered the field portion of the test. Can you believe we'd get a 4/4 in heeling later.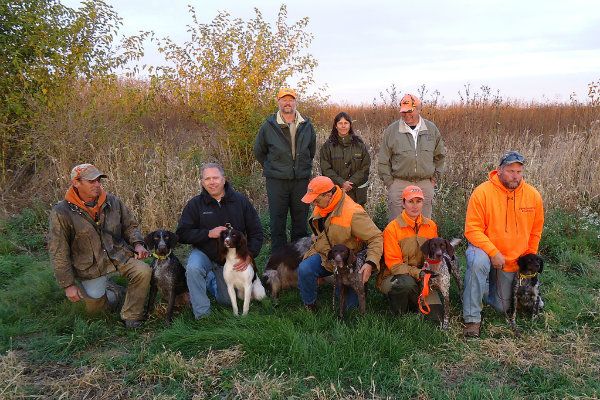 My end of the day UT photo. My good friend Jeff is to the far left with his UT prized DD Izzy, and again Randy is to my right with his UT prized dog George.